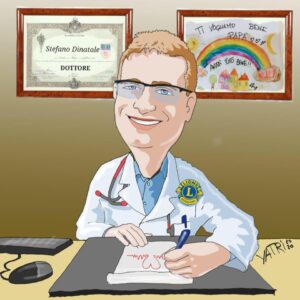 Prescribe culture. A provocation? Not exactly. In some countries, it is already possible for a family doctor to prescribe a visit to the museum for his patients suffering from depressive syndrome or chronic illnesses. In Brussels, doctors can prescribe free museum visits to their patients to combat psychological problems resulting from the pandemic. Since 2018, physicians across Canada have been able to prescribe free tours of the Montreal Museum of Art's collections and exhibitions for their patients suffering from chronic illnesses or depression, in addition to traditional drug therapies.
The "Museums on Prescription" project was already born in London in the period 2014-2017, which allowed elderly people, alone and at risk of social exclusion, to have free access to many museums. And even earlier, in 2007, the famous MoMA museum in New York organized the "MoMA Alzheimer's Project", a project that allows dementia patients to access the museum's various collections free of charge. In 2017 in the UK there was a similar project called the "Arts on Prescription project" which showed that in subjects with anxiety and depression there was a 71% and 73% reduction in symptoms respectively in subjects who had participated in the project proposed artistic workshops. And also the Louvre, in 2020, signed a collaboration with the University Psychiatric Hospital of Paris to carry out "art therapy" programs and activities. In fact, multiple epidemiological studies have statistically shown that the constructive use of free time is associated with increased life expectancy and a reduction in certain degenerative diseases, such as Alzheimer's disease and neoplasms. However, culture is sometimes seen as entertainment, almost as if it were something superfluous and useless. Cultural activity, on the other hand, represents an important tool capable of preventing cognitive decline, reducing the main stressful conditions and contributing to the psycho-physical well-being of people.
In order to improve the quality of life of patients and therefore their well-being, many advances are also being made in Italy. The first projects were launched about ten years ago in Naples, Rome and Florence, cities in which museum activities for people with dementia and their carers are no longer a novelty. In Tuscany, there are more than 50 museums and a dozen libraries that offer activities for people with dementia and their caregivers. And the first steps are also taking place in Turin. The practice of family doctor Dr Ravazzani Romano, unable (for now) to prescribe visits to museums, has only transformed his clinic in Turin into a real museum which he has defined as a "clinic of the art ". And it is not uncommon to find works of art, sculptures and paintings in the waiting rooms of doctors' offices and hospitals. Finally, from May, some family doctors will make visits inside museums, starting with the Egyptian Museum, thanks to the "Well Impact" project of the Compagnia di San Paolo. Beauty and art (all arts) produce well-being through an increase in certain hormones such as cortisol and serotonin. We therefore devote more time to beauty, the arts and well-being in general. As Dostoyevsky said "beauty will save us".
Etienne