Davide Nanni is a young chef, very popular on social networks, who has invented a new culinary philosophy: preparing dishes in the wild, in the woods of his Abruzzo.
"Sharing makes us live, why should we be jealous of our recipes? If one of my recipes pleases someone else better, I can only be happy". The joy conveyed by this young but respectable and kind boy is matched only by the goodness of his dishes. This is why the restaurant world should learn to be less rigid and welcome people like Davide who are happy, not only to cook, but also to build a circle of ideas around what he creates.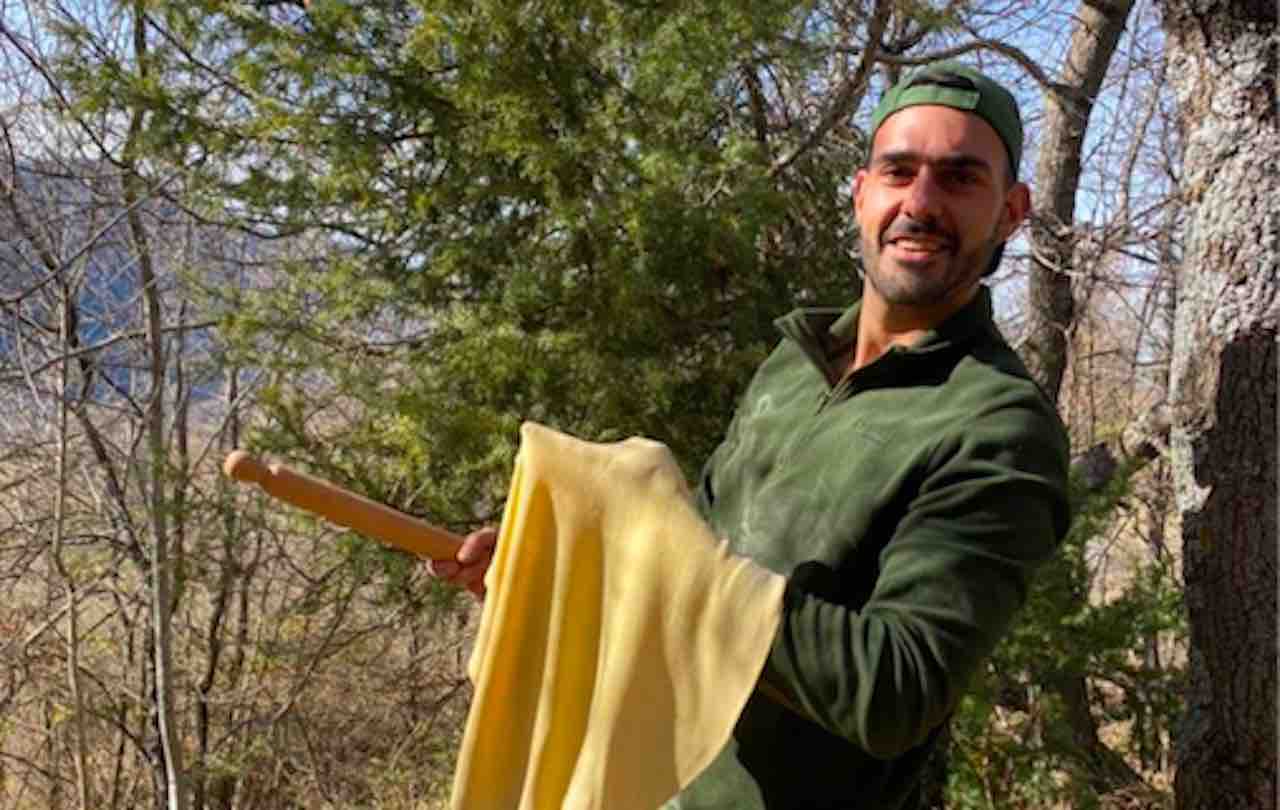 Davide Nanni is 31 years old and has been cooking almost forever; despite his young age, he has already accumulated various experiences both in Italy and abroad, but it was when he returned to Castrovalva, a village of only 12 inhabitants in the province of L'Aquila, that he found his serenity. Like, how? With a "wild" cuisine, composed of simple dishes made in its mountains. Star of social networks – in total between Instagram, Facebook and Tik Tok has almost 210,000 subscribers – he has not forgotten precisely the places which, with his grandfather, raised him.
Here is what he told us.
Chef Davide Nanni: "I have always been myself only in the middle of nature"
Tell us a bit about yourself.
Until 1997, when I was six years old, I stayed in Rome, but every weekend we went to visit my grandparents who had a farm in Abruzzo. I spent time with my grandfather in the countryside or with my grandmothers making egg pasta and had my first taste of cooking with them. My parents then got tired of Roman life and – thanks to state subsidies – opened the "Eagle's Nest" hostel in Castrovalva, in the province of L'Aquila. When they opened the restaurant, my mother and my grandparents made 15-20 kilos of egg pasta every other day and I always spent my days with them making pasta. After college I decided to go to a hotel and as soon as I graduated I left for London where I worked for Giorgio Locatelli. I had been there for almost 6 months, even if my first experience of a starred restaurant was very difficult, because in the kitchen there are a lot of hierarchies and I was very young.
How was this experience with Locatelli?
It was indeed complicated because I have always been a fairly simple boy, in fact I am hypersensitive. Arriving in such a large kitchen with 16 cooks, in a more rigid sector then than today, did not make me very comfortable. Indeed, I had almost decided to stop being a cook: I returned to Italy and spent 4 months on stand-by because I said to myself "if this is the job of a cook, I don't know not if I can". Instead, I started working in Rome at the restaurant "Quattro Fiumi" then "Tre Scalini" where I found a chef who had attended my school and who took me under his wing: teaching me his rounds in less than two months, I became a second game leader and we had almost 200 people on duty. Each time I became better than the chef – which often only happened because I listened to the advice they gave me, certainly not to make me look good – so as not to steal the job, I quit, because I owed a lot to those who had taught me.
Tell us about J'so wild and your culinary philosophy.
After being at the "Mezzo" restaurant for almost two years, a fundamental experience for my career, I became for the first time the chef of "Casa Alice", where I worked for three years and formed my first team. After that – as the work of the chef is often not economically valued and after breaking up with my girlfriend – I opened, encouraged by my boys, a Facebook and Instagram page. They told me to post the recipes I was teaching so as not to think about my private life and after less than a month I already had 5000 followers. Around the same time, I received a proposal from Florida and left, as they had refused me a small raise that I had asked for. I gave up part of my salary to bring one of the guys who worked with me to Rome because he always respected me and even now, although he is younger than me, he always calls me "chief".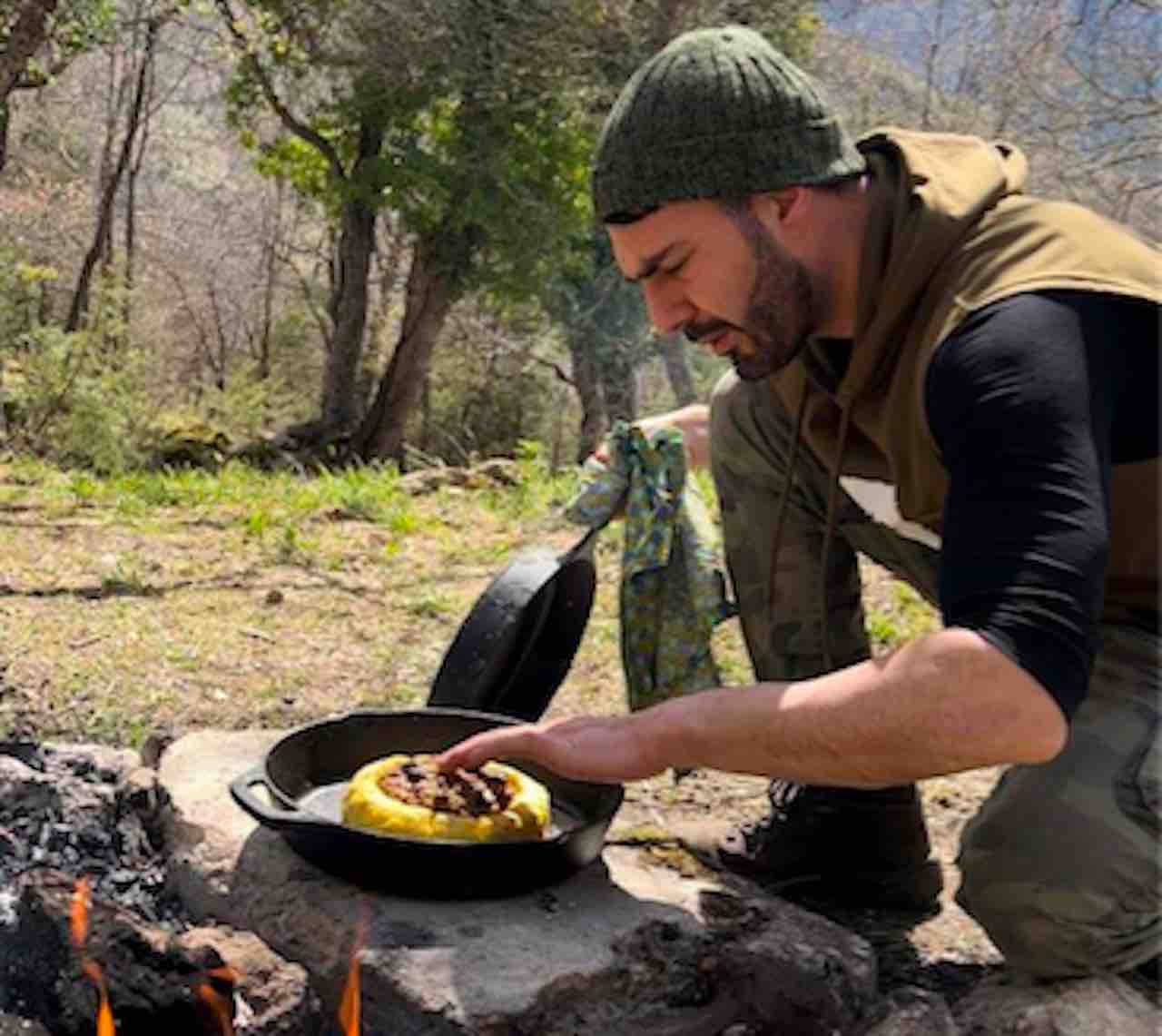 I was the executive chef of two Italian restaurants and this is where he was born I was so wild, that's when the owner of the restaurant asked me to cook a meatball amatriciana, a very important dish for me because I was cooking it at the age of 12 with my best friend and his brother. Despite an excellent salary, I replied: "What are you doing there? If you want me to mess up a dish so important to Italian and Roman cuisine, tell me I'm going home". When the waiters asked me why I wanted to go back to Italy, I replied: "Because I am wild" and so two weeks later – in the middle of the Covid period – I returned to Italy.
Once back I was on hold for a while, also due to the pandemic, until last year I decided to try offering a tasting menu at my parent's farm. , where I was my chief mother. You've always had a fixed menu, but a simpler cuisine than mine, so I created slightly more innovative versions of the tradition with 0 km products. We had great feedback, although we lost a few customers as we increased prices slightly. However, I won many from outside, who actually didn't expect to pay so little – around 38 euros – for dishes like this.
Returning to I 'so wild, cThere's a great concept behind it all: the only place I could feel and calm down was when my grandfather took me to the countryside with him. From this was born the whole philosophy of contact with nature and the feeling of freedom, so much so that in the farmhouse we have recreated dishes that you can eat with your hands; the experience that I want to give to my clients is to be a bit wild too.
Given your success on social media, do you consider yourself something of an ambassador of Abruzzo cuisine to the world?
I would like to say yes, even if there are better chefs than me, like Vito Romito, who has three Michelin stars. Among the young people I am perhaps the one who believes in the territory, to promote these villages that are being lost. For example, they came to eat with me from Bari by bus and were amazed that there was such a beautiful place, perched on these mountains.
One thing I want to do with my videos is also send a message to children my age: I see a lot of superiority, we only think of beauty, comfort, cooking on your knees for example, I want to make them understand that this is not the comfort we need.
What do you think of the recent controversies and the statements of some of your colleagues on the fact that many young people do not want to work in the restaurant industry because of the hours and the constant commitment? What advice would you give to those who want to do this job?
Things have changed, there are far fewer sacrifices than before, but I understand that there are restaurants and chefs who still ask for very heavy hours at low wages: if you offer to work 14 hours a day at 1300 euros, I automatically think that a guy today thinks "you make me work a lot, but I want my freedom". I adopt another philosophy: I too worked 15 hours a day, I paid little, I was sick, but I did it because I wanted to arrive. I try to motivate my children by paying them the right amount: I gave salaries to my assistant cook that I dreamed of when I was his age, but I see his enthusiasm to come to work. Then there is a healthy environment in my kitchen: I am the first prankster, the first to joke… and then in the end I pay you when you deserve it so when you come to work you are happy. If we complain about young people who do not want to work, we must also examine our conscience.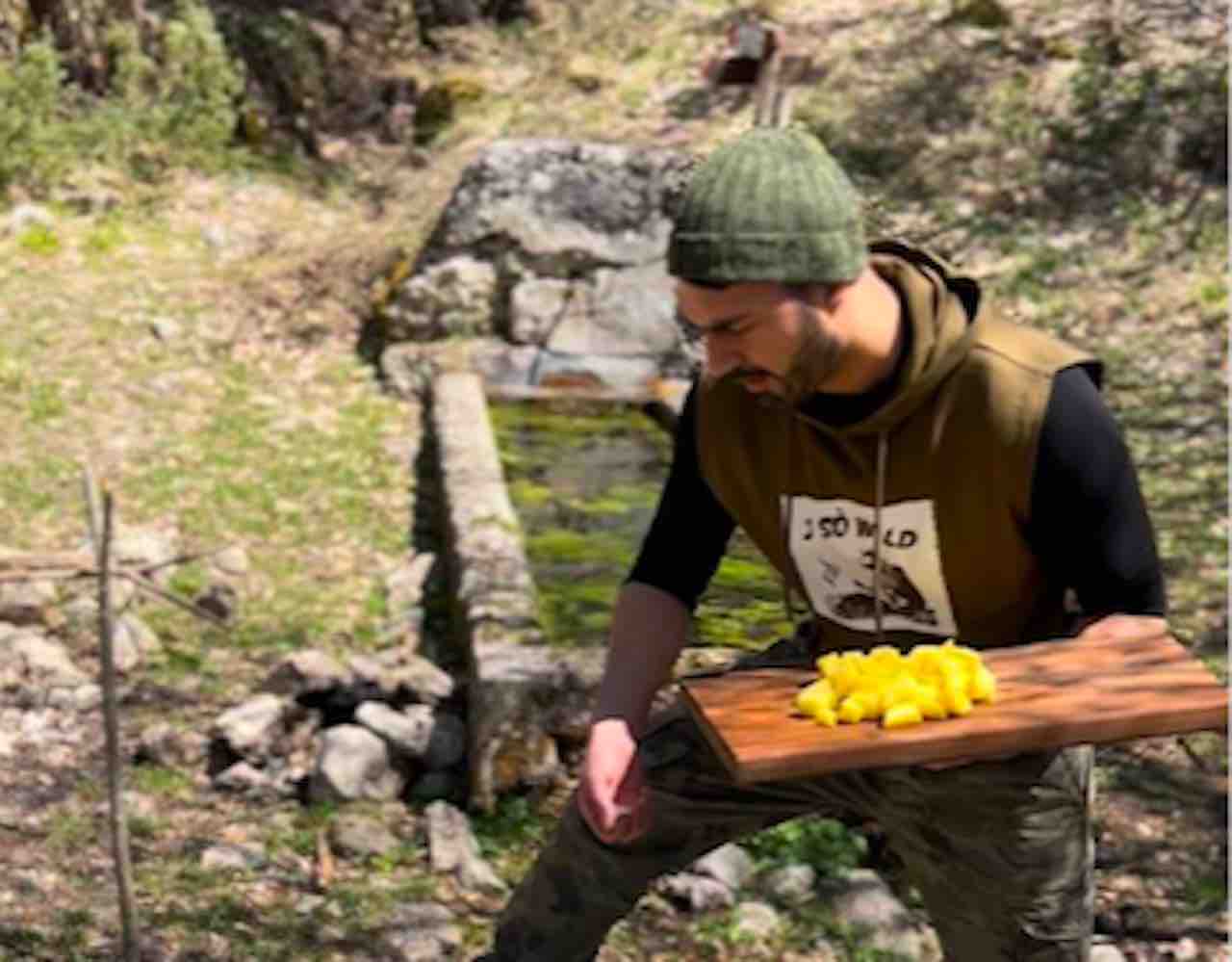 Have you ever thought, after seeing your sequel, of a cooking show on television?
Just a few weeks after opening the Instagram profile, an editor from Masterchef contacted me, without telling me what program it was. Then when I understood, I had to say no because I worked with Locatelli, since I am not an amateur cook.
As a guest, however, I would like to participate to share my simple life philosophy.
The recipe you are most proud of.
His name is Pecural pasta: it's a reinterpretation of a pasta that my grandfather made for me before going to graze the sheep. We start with a stir-fry with lots of garlic, then cook the pasta with the potatoes; he drained the pasta in the stir-fry, he put the chilli and whipped it all with lots of pecorino. I've revisited this pasta over the years, first making homemade pasta – pappardelle – with potatoes, dried sausage crumble and pecorino. I also cooked it in the woods and it even got over a million views.