Balanced, healthy, rich in natural foods, plant-based and tasteful: there is always a reason to celebrate the Mediterranean diet! A way of life rather than a diet, year after year confirms its popularity around the world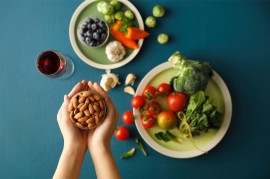 As if having a dedicated international month wasn't enough, US News & World Report has named it the world's best diet for the fifth year in a row.
What are we talking about? From the Mediterranean diet, of course.
Popular around the world for its beneficial health properties – especially in the areas of weight management, type 2 diabetes and cardiovascular disease – its simplicity and balance, combined with natural and tasty foods, make Mediterranean diet a way of life rather than just a dietary pattern. based on sound nutritional concepts and the importance of physical activity.
Are his notoriety and his reputation really deserved?
"Definitely yes! The Mediterranean diet is a healthy and balanced eating pattern, with a strong emphasis on foods such as whole grains, nuts such as almonds, fresh fruits and vegetables, olive oil and fish, especially oily fish, and there is plenty of research supporting its many health benefits.The Predimed1 study, to name one of the largest, shows a 30% reduction in cardiovascular disease. recent studies published in the journal Nutrients suggest that the traditional Mediterranean diet may reduce the risk of a number of diseases, including type 2 diabetes, heart disease, and even certain cancers," says registered dietitian Ambra Morelli.
Despite all this popularity, or perhaps because of it, the Mediterranean diet is sometimes misunderstood. Since it's not a rigidly structured program, some think it's pasta, pizza, and carbs.
"These foods are obviously included in the Mediterranean diet, but they are only part of it. Emphasis is on plant-based foods, such as fruits, vegetables, legumes, nuts and seeds, limiting processed foods.
Almonds, and dried fruits in general, are a fundamental part of the traditional Mediterranean diet and represent an excellent snack alternative with benefits for the heart and also for the waist. Specifically, one study found that a daily snack of almonds instead of an equal-calorie high-carb snack included in a cholesterol-control diet helped reduce abdominal fat and significantly improve blood cholesterol levels2," adds Dr. Morelli.
So what is the key to the success of the Mediterranean diet?
"There is not just one key to success, but it is a combination of complementary factors: balance, simplicity, solid nutritional concepts and, last but not least, tasty food.
Restrictive diets easily end up generating dissatisfaction and do not teach us how to eat in a balanced way to stay in shape and have the energy to live life to the fullest. The food
it should be a time to come together, to celebrate the culture of good taste, and that's more than just nutrients and calories. It is the essence of the Mediterranean diet and
Almonds are, in a way, an embodiment of this idea: an energetic, healthy yet tasty food, full of natural goodness," concludes Morelli.
Five tips for a healthy and balanced diet, according to the principles of the Mediterranean diet
Look for ways to add more vegetables to your regular meals. Add vegetables to stews, burgers, pasta and rice or sandwiches. Fruits and vegetables contain a wide variety of vitamins and minerals.
Get the most out of plant protein by regularly consuming Mediterranean foods like lentils, beans, chickpeas, etc. and dried fruits, such as almonds. A handful (30g, about 23 almonds) contains 6 grams of vegetable protein.
You can increase your fiber intake by switching to whole grain varieties of pasta, bread and rice, eating more beans, lentils, chickpeas, nuts like almonds and eating potatoes with their skin. Diets high in fiber and whole grains have been linked to a reduced risk of non-communicable diseases.
Add more healthy fats to your diet by choosing healthier cooking oils like extra virgin olive oil, alternate or replace a handful of almonds with other types of snacks. A diet high in unsaturated fats is associated with a reduced risk of cardiovascular disease.
From fruit salads to refreshing low-fat Greek yogurt topped with berries and almonds, eating a Mediterranean-inspired dessert is a great way to enjoy sweet summer flavor without the added sugar or saturated fat.
1 https://www.nejm.org/doi/full/10.1056/NEJMoa1800389?query=featured_home
2 Berryman CE, West SG, Fleming JA, Bordi PL, Kris-Etherton PM. Effects of daily almond consumption on cardiometabolic risk and abdominal adiposity in healthy adults with elevated LDL cholesterol: a randomized controlled trial. Amer Heart Assn Day 2014; 4: e000993, 2015.
—
About California Almonds
California Almonds improve lives through what we grow and how we grow. The Almond Board of California promotes natural, healthy, and quality almonds through its leadership in strategic market development, innovative research, and accelerated adoption of industry best practices on behalf of more than 7,600 growers and almond processors in California, most of whom are multi-generational. family operations. Founded in 1950 and based in Modesto, California, the Almond Board of California is a nonprofit organization that administers a federal marketing ordinance enacted by growers under the supervision of the United States Department of Agriculture. For more information about the Almond Board of California or almonds, visit Almonds.it or check out California Almonds on Facebook, Twitter, Instagram and the California Almonds blog.

© Do you think this text violates any copyright law, contains abuse of any kind? Contact the manager or
Read how