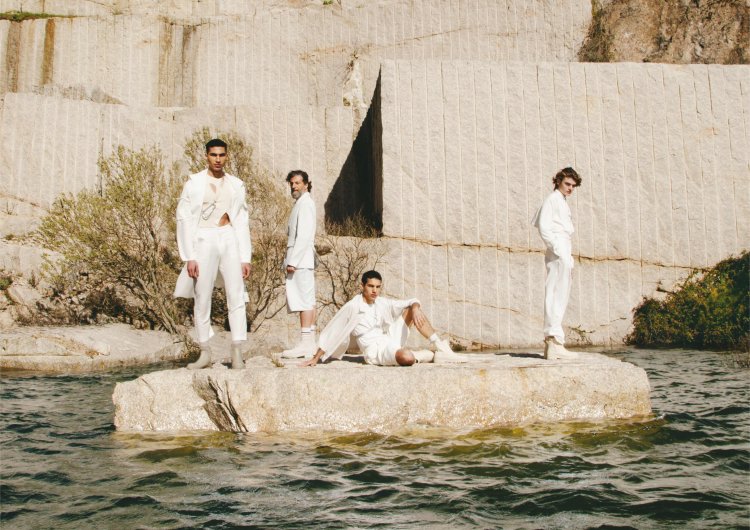 Performance in foreign markets in 2021
After 2020, Italian men's fashion quickly experienced a change of pace during 2021: indeed, foreign trade is once again affected by very favorable dynamics. As ISTAT data shows, exports for the whole year registered an increase of +13.4%, for a total of approximately 7.2 billion euros, while imports increased by + 8.2%, reaching 4.9 billion euros.
Despite performing favorably compared to 2020, menswear nonetheless failed to close the gap to pre-pandemic levels; in the case of exports, the values ​​for 2021 are -5.3% lower than those for 2019 (i.e. just under 404 million in absolute value); the difference in terms of imports is greater, equal to -13.4% (corresponding to approximately -756 million euros).
As far as commercial opportunities are concerned, it should be noted that the EU and non-EU zones proved to be favorable to the sector, although at very different rates, growing by +22.2% and +7.1% respectively. The EU market covers 45.1% of the sector's total exports, while the non-EU market is the biggest "buyer", absorbing 54.9%.
Likewise, in the case of imports, 45.3% of men's fashion entering our country comes from the EU, while the non-EU guarantees 54.7%. During the period under review, the first destination for men's fashion made in Italy was Switzerland, up +15.1%, thus confirming itself as a strategic logistics-commercial hub for the main brands in the sector; it also absorbs 12.2% of the sector total. They are followed by Germany, at 11.2%, and France, at 10.7%, both affected by an increase of more than +20%, equal respectively to +21.1% and +22.6% .
China jumped to fourth place, overtaking the USA, thanks to a very sustained average annual increase, equal to +58.8%, for a total of 523 million euros (7.3% of the total). On the other hand, Hong Kong, in tenth position, shows a drop in Italian exports in the sector of -3.4%.
Like what was observed for the other main outlets, exports to the United States, the fifth market, were also characterized by a positive trend, but at a less "intense" pace: they closed the year at + 12.5%, settling on a half billion market. Spain recorded an increase on good rates, ie +19.1%. South Korea itself experiences a variation on similar rates, equal to +22.9%.
Contrary to the average, among the top 15 "clients" of men's fashion, the nations have not failed to be affected by a drop in Italian sales: in addition to the aforementioned case of Hong Kong, the United Kingdom has experienced a non-marginal decline equal to -32.0%, thus covering 6.3% of the total, while Japan lost -6.6% and fell below 300 million euros.
Finally, destinations with an incidence of between 3.3% and 1.8% of the sector total show growth in Italian menswear exports: among these are the Netherlands (up +17.7% ), Russia (+ 3.8%), Belgium (+ 33.9%). ), Poland (+60.2%) and more recently Austria (+11.2%).
Beyond the rebound in 2020, seen very strongly for most destinations, with a few exceptions, it is necessary to deal with more normal market conditions, i.e. at pre-pandemic levels. From this perspective, a distinction emerges between countries that have fully recovered from the aftermath of the Covid-19 pandemic and markets, on the other hand, that have not yet managed to fill this void. The top four markets effectively not only covered the losses due to the negative economic conditions of 2020, but also exceeded the levels of 2019: Switzerland by +6.7%, Germany by +9.5%, France by +6.6%. China even posted a variation of +50.0% over 2019, which translates to more than 170 million; remember, however, that two years ago China was in eighth position, behind Hong Kong. A surplus of +31.9% was also recorded for sales in South Korea.
On the contrary, the USA and Spain, despite the good results of 2021, are respectively -20.1% and -13.3% lower than the levels of 2019: these variations correspond in absolute value to -128 million euros approximately for the USA and nearly 58 million for Spain. Russia itself, affected by not particularly strong momentum in 2021, is down -11.4% compared to the figure for 2019 (nearly 20 million less in absolute value).
The English market is more worrying: the fall in 2021, which follows that of 2020, sees Italian exports fall by -46.5% compared to those of 2019 (around 393 million less); similarly, Japan itself shows a gap of -18.3% (nearly 60 million). Regarding imports, China remained slightly down from January to December 2021 (-1.5%), although it covered 13.6% of the sector's total. Bangladesh, in second place, posted a modest increase, amounting to +1.2%. Increases in imports from France (+22.5%) and Spain (+28.0%), as well as the Netherlands (+30.4%) and Belgium (+27.5%) are much stronger on entry into Europe for Asian goods. Romania is down -5.1%.
Very positive dynamics also concern Germany and Turkey, both up +20.0%.
If we look at the men's fashion trade data, no longer by country, but by product, we see an excellent performance with reference to the export of outer knits, up +23.1% in pace year, and, although very much down, leather clothing (+23.2%).
Exports of ready-to-wear grew by +7.2%, those of shirts by +5.2%. Foreign tie sales remain down, down -13.6% year-on-year. Compared to 2019, knitwear and leather exports are higher, the former by +7.3%, the latter by +2.9%. The other three categories of products that make up men's fashion are, on the other hand, even weaker: the export of clothing by -11.6%, the export of shirts by -19.2%, while sales to foreign ties – 50.5%.
With regard to imports, the most sustained rate, equal to +18.4%, still concerns knitwear, while clothing does not exceed +1.4%. Imports of leather clothing recorded a dynamic of +9.4%. On the contrary, imports of shirts and ties decreased by -4.4% and -25.3% respectively.
At the time of closing this note, data for the first months of the year has not yet been disclosed, so it is not possible to report on menswear's reaction to the new complexities resulting from the Russian-Ukrainian conflict. , a market that is not particularly relevant to the sector as mentioned above (impact of 2.2% on the sector's total exports in 2021), rather than the new outbreaks of Covid-19 in Asia.
In the short term, the greatest fears are due to the pressure on costs, in terms of energy, freight and transport, supply/delivery times, as well as the possible slowdown in demand due to a climate greater uncertainty.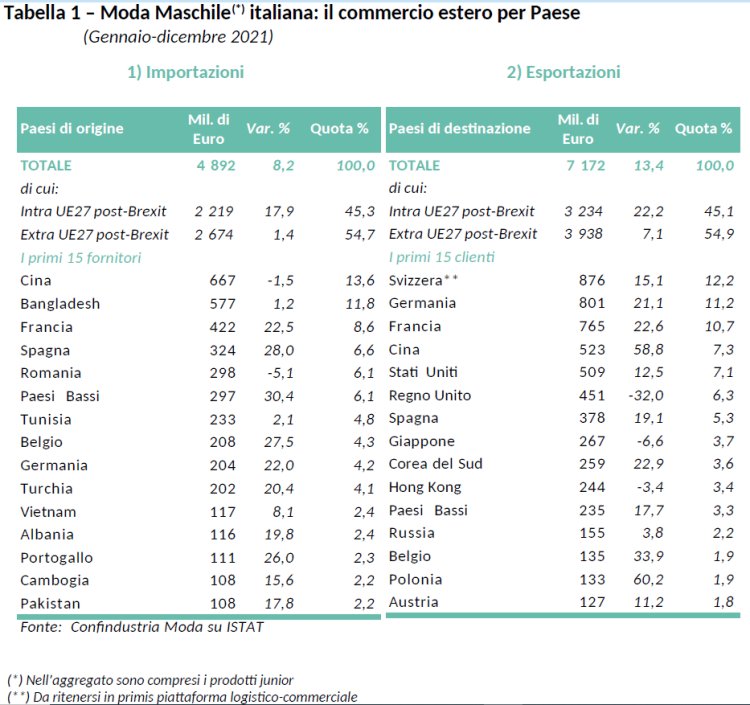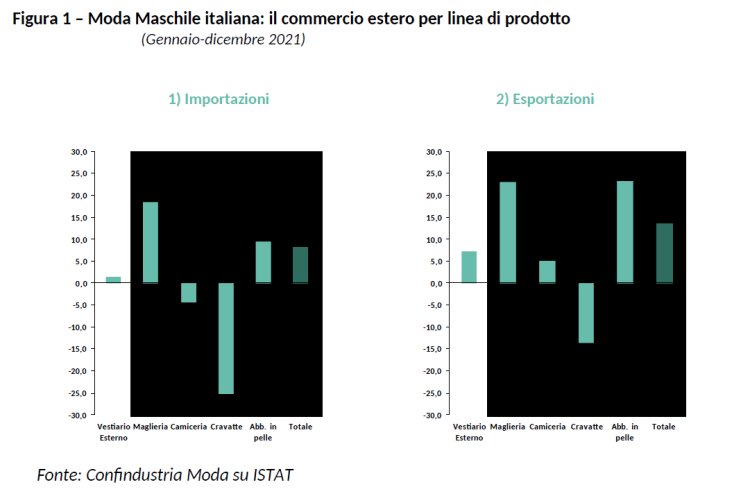 ==================================
Published by Confindustria Moda
This publication (hereinafter Document) is an exclusive and original work of Confindustria Moda for the benefit of the Textile and Fashion Federation – SMI (through Tessile & Moda Service – Soc. Unipersonale). Confindustria Moda is engaged in numerous activities aimed at protecting and promoting the interests of companies in the member sectors. This document, created for Pitti Immagine srl, is intended for distribution by mail, electronic or regular mail, and may not be redistributed, reproduced, published or modified in any part thereof by persons not expressly authorized. All copyrights are reserved. The Document is for informational purposes only and does not represent an offer or solicitation to effect any transaction. The information, opinions, assessments and forecasts contained in the Document have been obtained or come from sources that Confndustria Moda considers reliable, but which in no way constitute any form of guarantee, implicit or explicit and of which, therefore, Confndustria Moda and the Textile and Fashion Federation disclaims all liability.