For the last appointment of Professor Vacchelli's "Library Reading Journey", great relevance in the rereading of some extracts from James Joyce's Ulysses. The epiphany of Joycian language becomes a key to understanding to reflect on black Forest which again eclipses democracy.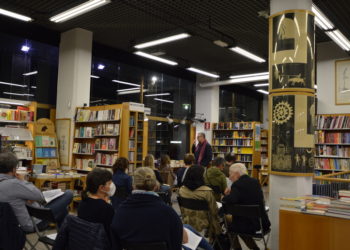 Legnano – A cultural evening of great comparison, that of Tuesday May 10 at 9 p.m. at the Nuova Terra Library in Legnano.
Invite him Professor Gianni Vacchelli close the cycle of "Literary courses in the library" dedicated to centenary "1922 – 2022, a century of beauty, creativity and commitment"on an equally important occasion, the fiftieth when the library opens.
Dates that have left an indelible mark in the history of literature. The cycle, which began in February, opened with a question: "Will we be able to wake up and re-open to life and being?.
the Professor Vacchellithanking the public for their presence, and fiorelle for the welcome and the opportunity to meet and share readings and reflections in a dear and unique place like the New Earth (a broom in the middle of the lava of the volcano) wanted to close the cycle of readings devoted to the great authors of the 20th century such as Buzzati, Pasolini, Eliot, with an evening dedicated to James Joyce and his masterpiece "Ulysses".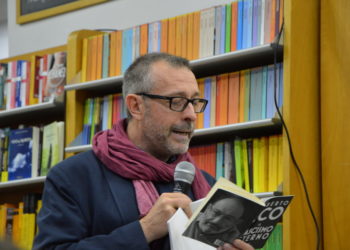 "Repeating the question with which we began, we could not count on a more suitable authoror: Joyce, the Irishman who knows how to energize and awaken us.
A difficult, demanding and particular author who often leaves us without answers.
Driven by a living dialectic. He has the ability to mix different styles, passing from the viscerality of language – emphasizes Professor Vacchelli – to more refined expressions.
Gianni Vacchelli is an astonishing open encyclopedia. It is a river of thoughts. Feed curiosity. This leads the reader to never take anything for granted. To look beyond the curtain.
Evening that gave a constructive comparison and a lot of food for thought on an author who wanted to understand the language as an expression of liberationthe word as testimony in the search for the meaning of things.
The word that has no endin a way where being wrong encourages reflection on diverse, different points of view and not locking oneself in a single direction, summarizing the content.
A last thought to Peo, the soul of the bookstore, who last night would have been happy to meet old friends. In reality there was, there is and in this photo that hangs in the center of the shop, and which is located at a point of conjunction between the upper and lower part, her smile is present and with Fiorella continues the journey…
Thank you Professor Vacchelli!
Michela Manzotti
Continue to follow us on our social networks, click here!
Related Articles